The Collector's Choice - C. L. David and Danish Early Modern Art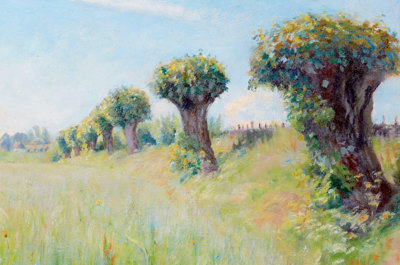 A personal collection of Danish art
Throughout his life, the museum's founder, C.L. David (1878-1960), was very fond of Danish art, passionately collecting works by contemporary artists: Vilhelm Hammershøi, J.F. Willumsen, Theodor Philipsen, Axel Salto and others. They were prominently displayed in his home as well as in his multifaceted art collection, The David Collection, which opened to the public in 1948 and is now among the largest and most significant privately owned collections in Denmark.
In the early 1960s, after C.L. David's death, the 'modern' Danish art was put in storage, partly to make room for the growing collection of Islamic art. This is still the case today, where the approximately 250 works from the so-called Collection of Danish Early Modern Art are not on permanent display. However, a variety of selected works from the collection is exhibited at intervals.
At this exhibition, the selection includes more than sixty paintings, watercolours, sculptures and ceramics from the late nineteenth and first half of the twentieth century. Several of the pieces hold iconic status in Danish art history today. What is more, all but one were personally selected and acquired by C.L. David himself. This is quite unique, as the museum's other collections have evolved significantly after his death. The Danish works, however, are forever rooted in the passionate collector's own day and age, making them a particularly poignant contribution to the story of his life and work.
The exhibition is on display from 12 May 2023 to 18 February 2024
A number of free guided tours are offered during the exhibition period.
An exhibition catalogue (in Danish and English) can be purchased in the museum shop or in our webshop at a price of DKK 100. The exhibition poster is sold for DKK 40.